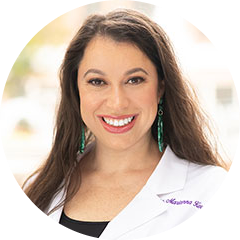 Dr. Marianna Kovitch is an Atlanta-based dentist. After completing her undergraduate degree in chemistry with an honors thesis in Biochemistry she attended Medical College of Georgia for Dental School.
In 2015, Dr. Kovitch received her Fellowship in the International Congress of Oral Implantology. She also holds certification from the Academy of Laser Dentistry using a dual wavelength diode laser for highly specialized cosmetic and periodontal procedures.
Dr. Kovitch is passionate about treating sleep apnea and snoring using oral appliance therapy to help her patients improve their much-needed sleep quality. She is a member of the American Academy of Dental Sleep Medicine and a Diplomate in the American Board of Dental Sleep Medicine. She is also a certified Healthy Start provider, helping children correct early signs of sleep disordered breathing.
Dr. Kovitch is the current president of the Georgia Academy of General Dentistry and received her fellowship in in the Academy of the General Dentistry in 2021.
Dr. Kovitch, her husband Sam- an aerospace engineer-and their two young children love traveling, cooking, dancing, and spending time with family & friends.